These are the bikes I owned and raced in my youth!
(Pictures are only representative of my past bikes)
1969 Kawasaki G3TR (90cc)
The little 90cc Kawasaki was the bike that started it all. A Christmas present for trail riding in the desert, it wasn't long before it was basically stripped and turned into a little desert racing bike - plastic tank and fenders, skid plate, front fork brace, ported and polished cylinder, expansion chamber exhaust, Koni shocks, etc. Push button start helped on the dead-engine desert racing starts of the day. We kept the oil injection system so no need for premix. It was a fun little bike - competitive in the 100cc desert classes, but lacked in handling for some of the motocross races that my brother and I entered it in.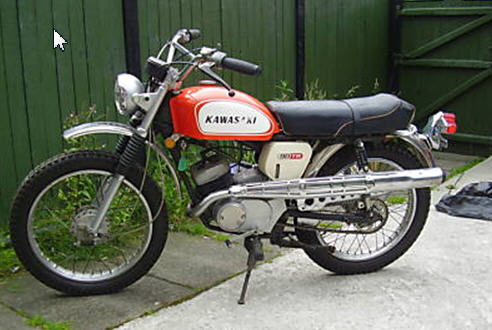 ---
1970 Kawasaki F21M (238cc)
Not too long after my younger brother and I were riding the Kawasaki G3TR, my dad decided to start riding again and bought a 1970 Kawasaki F21M, which was also known as the "238 Greenstreak". Although marketed as a scrambles (or flat track) racer, most of them were actually used as trail and desert bikes. As with the G3TR, it was soon modified to be more of a desert race bike. Although it was my dad's bike, I raced it quite often in motocross, desert, and enduros.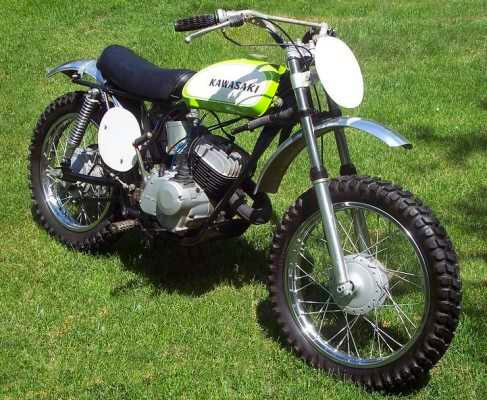 ---
1971 DKW 125
The first motorcycle I bought with my own money (earned from working at a motorcycle shop)! My DKW 125 was also converted into a desert racer. At this time, one of the fastest desert racers in District 37 was Tom (Tommy) Brooks Jr., who won several desert races overall on a little DKW 125. That convinced me to get a DKW 125 too. I took off all the lights and accessories, put on plastic fenders, and started racing desert and enduros with it, with the occasional motocross race from time to time. I'm sure I switched the rear shocks out for better suspension, and at some point changed the gas tank out for a plastic one. The DKW was very competitive in the 125cc class, and I raced it throughout my high school days. I was able to win some Novice events and move up to the Intermediate (Amateur) level of District 37 with this bike.

I also pre-rode the Baja 500 one year on my DKW 125 with Steve Hurd, Mike Patrick and Phil Bowers (all famous Baja winners and desert racers).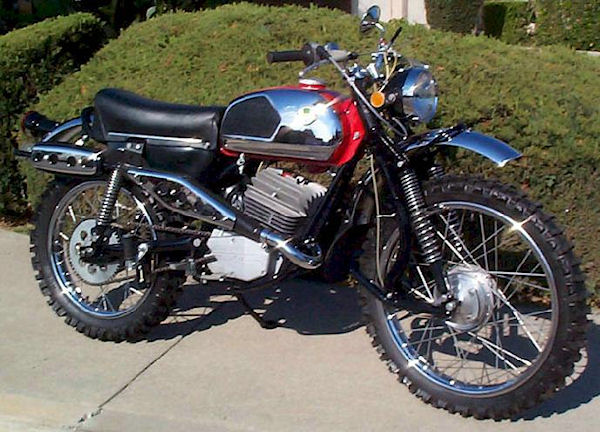 ---
1980 Kawasaki KDX175
After a short hiatus from racing during my college years, I bought one of the first KDX175's brought into the US to begin desert racing again. As soon as I got it, I took it bone-stock to a District 37 European Scrambles, and took 2nd place. Soon, I was winning and moved up to the expert class. It was a very innovative dirt bike at the time with its Unitrack (single shock) suspension. I raced it pretty competitively for a few years before finally retiring from the racing scene after getting married, and starting a family.

I didn't realize at the time that it would be almost 25 years before I owned another motorcycle, and getting back into off-road riding and racing again!