These are the bikes I owned in my younger days!
(Pictures are only representative of my past bikes, as I lost most of my pics from back then)
1969 Kawasaki G3TR (90cc)
The little 90cc Kawasaki was the bike that started it all. A Christmas present for trail riding in the desert, it wasn't long before it was basically stripped and turned into a little desert racing bike - plastic tank and fenders, skid plate, front fork brace, ported and polished cylinder, expansion chamber exhaust, Koni shocks, etc. Push button start helped on the dead-engine desert racing starts of the day. We kept the oil injection system so no need for premix. It was a fun little bike - competitive in the 100cc desert classes, but lacked in handling for some of the motocross races that my brother and I entered it in.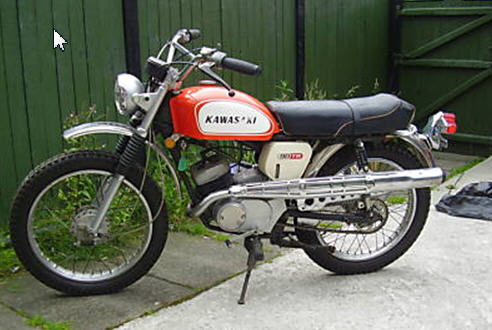 ---
1970 Kawasaki F21M (238cc)
Not too long after my younger brother and I were riding the Kawasaki G3TR, my dad decided to start riding again and bought a 1970 Kawasaki F21M, which was also known as the "238 Greenstreak". Although marketed as a scrambles (or flat track) racer, most of them were actually used as trail and desert bikes. As with the G3TR, it was soon modified to be more of a desert race bike. Although it was my dad's bike, I raced it quite often in motocross, desert, and enduros.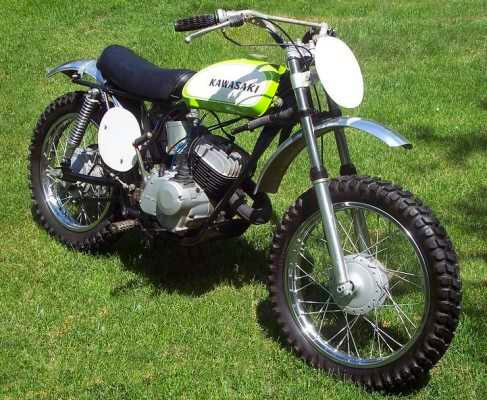 ---
1971 DKW 125
The first motorcycle I bought with my own money (earned from working at a motorcycle shop)! My DKW 125 was also converted into a desert racer. At this time, one of the fastest desert racers in District 37 was Tom (Tommy) Brooks Jr., who won several desert races overall on a little DKW 125. That convinced me to get a DKW 125 too. I took off all the lights and accessories, put on plastic fenders, and started racing desert and enduros with it, with the occasional motocross race from time to time. I'm sure I switched the rear shocks out for better suspension, and at some point changed the gas tank out for a plastic one. The DKW was very competitive in the 125cc class, and I raced it throughout my high school days. I was able to win some Novice events and move up to the Intermediate (Amateur) level of District 37 with this bike.

I also pre-rode the Baja 500 one year on my DKW 125 with Steve Hurd, Mike Patrick and Phil Bowers (all famous Baja winners and desert racers).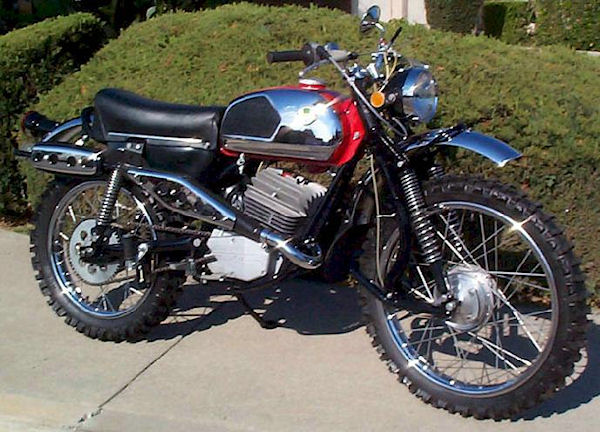 ---
1977 Kawasaki KZ650 C1
The 1977 Kawasaki KZ650 Custom was a fantastic bike. It had a 4-cyclinder DOHC, air-cooled engine with a 5-speed transmission. It was a middleweight version of Kawasaki's famed Z900 bike. It weighted approximately 460 lbs, producing about 62 HP that was capable of a top speed of 120 mph. It was a great handling bike, and super fun to ride. It could easily work as a commuter bike or canyon carver, and was great for trips around the southwest US.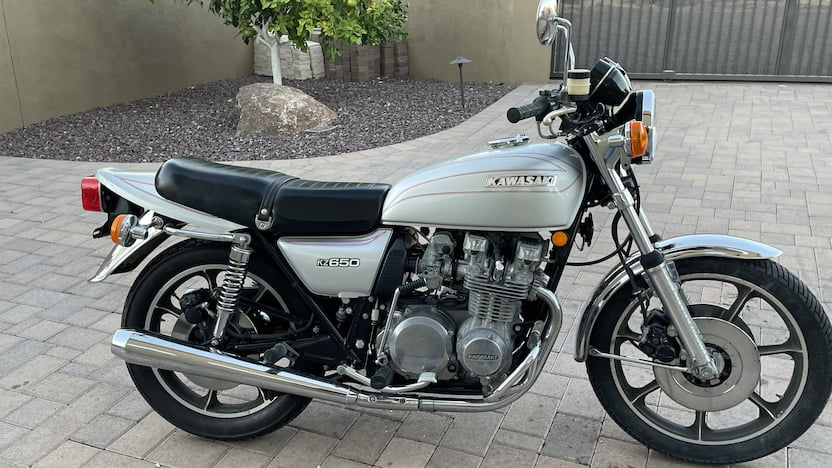 ---
1978 Kawasaki KZ1000 LTD
I fell in love with the looks of this bike! The 1978 Kawasaki KZ1000 LTD was the first production motorcycle to come out of Kawasaki's Lincoln, Nebraska plant (moving manufacturing of some motocycles from Japan to the US). It was an inline 4-cylinder, producing about 90 HP. The KZ1000 non-LTD version won the AMA Superbike Championship in 1977 and 1978 with Reg Pridmore as the pilot. The LTD version was the comfy, stylish, cruiser edition of the KZ1000 line. It was both comfortable and super fun to ride.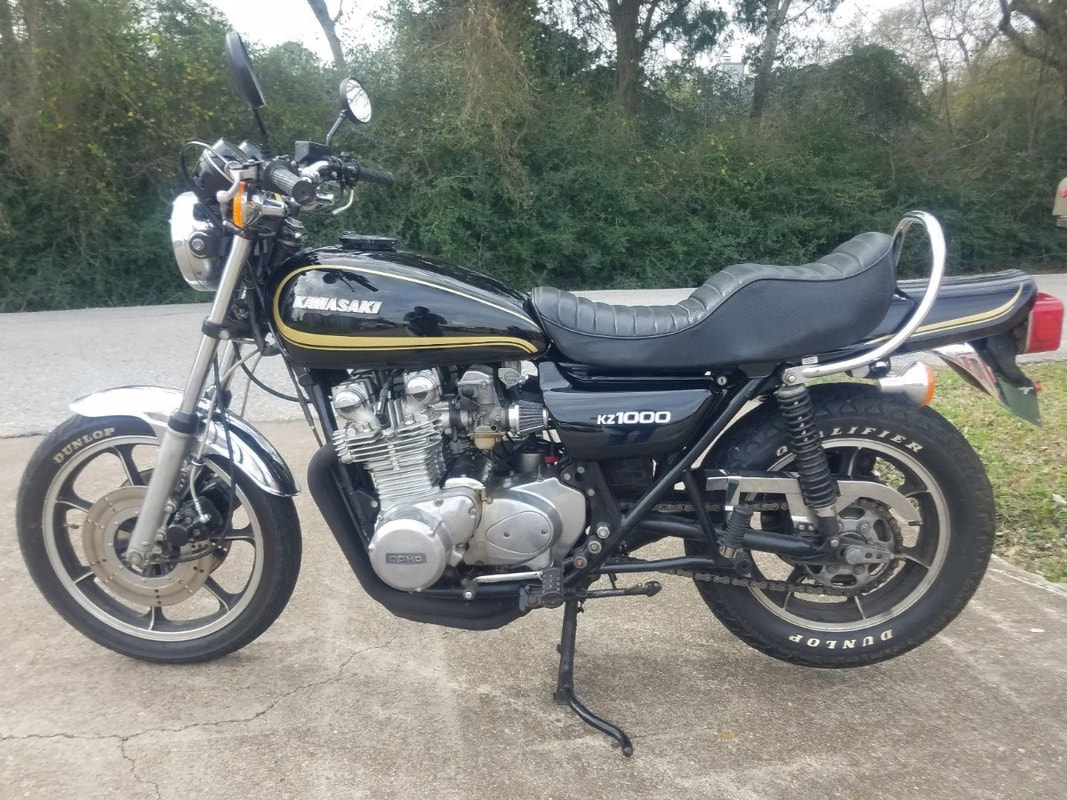 ---
1980 Kawasaki Z1-R
In 1972, Kawasaki revolutionized large-bore street bikes with the introduction of the Kawasaki Z1, a 4-cylinder 903cc, that was arguably the fastest production street bike (82HP and a top speed over 130 mph). In 1978, Kawasaki introduced the Z1-R with a 1016cc motor, and re-styled into a cafe racer look; it was the first Japanese production motorcycle with a handlebar-mounted fairing. The fairing, "coffin" tank, triangular side panels, and squared-off tailpiece gave it a unique look. The 1980 version came in black, as was striking to see. It featured a re-designed frame to improve handling, and a heavier crankshaft to reduce vibration. Another great, fun Kawasaki motorcycle for the street. I anjoyed some good times on the Z1-R.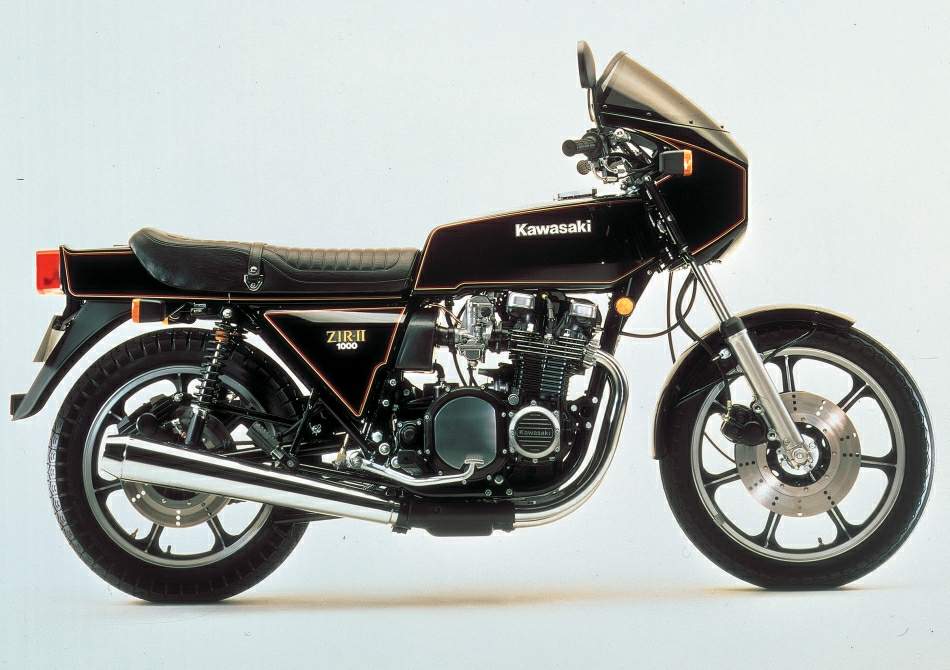 ---
1980 Kawasaki KDX175
After a short hiatus from racing during my college years, I bought one of the first KDX175's brought into the US to begin desert racing again. As soon as I got it, I took it bone-stock to a District 37 European Scrambles, and took 2nd place. Soon, I was winning and moved up to the expert class. It was a very innovative dirt bike at the time with its Unitrack (single shock) suspension. I raced it pretty competitively for a few years before finally retiring from the racing scene after getting married, and starting a family.

I didn't realize at the time that it would be almost 25 years before I owned another motorcycle, and getting back into off-road riding and racing again!