Death Valley March Madness Rally - 2012
March 2012
The March Madness Rally was another annual gathering organized by the SoCal inmates from the Adventure Rider Forum. For March 2012, over 150 riders gathered to ride the roads and trails of Death Valley, share stories, and enjoy a great time.
Tim Barstow volunteered to haul my bike and body out to DV, and we left bright and early on Thursday morning, March 21 heading to Panamint Springs Resort on the west side of Death Valley. For this ride, I was taking my 2011 Husaberg 570.
Thursday, March 29, 2012
Once we arrived, we quickly decided to take a ride out to the Saline Valley Hot Springs. I didn't take any pictures, but here's a video taken with my helmet cam.
It's about 75 miles from Panamint Springs Resort to the Hot Springs. We passed several other riders on the way out. Once we arrived at the Hot Springs, we quickly found Pablo who was camping at the Springs. Pablo offered us some cold beers, which definitely hit the spot. We also bought a few gallons of gas from him so we wouldn't run out on the way back.
Friday, March 30, 2012
On Friday, I volunteered to lead a ride to Chloride Cliffs, Beatty, Rhyolite, and Titus Canyon. We left Panamint Springs around 9am, and then stopped in Stovepipe Wells for some to pick up their National Park permits.
Responsible ADV Crew getting their permits at the Ranger Station in Stovepipe Wells
While some of our riders were getting their permits, another group was passing us by on their way to Chloride Cliffs.
Soon enough, we were on our way to Chloride Cliffs, the site of a short-lived (1872-1873) gold mining community on the eastern side of Death Valley.
On the way to Chloride Cliffs
We all made it up the sometimes steep and rocky trail to Chloride Cliffs, and treated to a beautiful view of Death Valley.
We made our way back down the same rocky trails, and then started heading east towards Beatty. The original plan was for us to take the back way (all dirt roads) to Beatty, which involves taking a two-track road south for a few miles before crossing Hwy 95 and heading into the hills south of Beatty. Unfortunately, the road was pretty whooped-out and one of our riders (Prakash) went down. He was unlucky enough to catch his foot between the footpeg and a rock and was in a lot of pain. We eventually decided that we needed to call 911 and get some help for him.
The local emergency center send a Fire Department 4X4 truck out to pick up Prakash, and take him out to a spot where he could be transferred to an ambulance. I sent the other riders on to finish the ride, while I gassed up in Beatty and hightailed it back to Panamint Springs to try and find a volunteer with a truck willing to help recover Prakash's bike that we had left by the side of the trail. I was lucky enough that the first person I asked, Leo, volunteered to use his truck for Triple-A duty.
We left PSR around 3:30pm, and headed back towards Beatty to pick up Prakash's bike. On the way, I called Prakash and found out that the ambulance had taken him to Desert View Hospital in Pahrump where they determined that he had three broken bones in his foot (I'm glad we called 911). So after getting his bike recovered, it was off to Pahrump to get Prakash out of the hospital. Since we had to wait an hour in Pahrump to get his prescription for meds filled, we ate at the fine dining establishment in Pahrump (otherwise known as Denny's). Then, since the Sheriff had forgotten to give Prakash's glasses to the ambulance crew, we had to back track to Denny's to get his glasses. We finally got back to Panamint Spings at around 10:45pm.
It turned out to be a long day, but at least we got both Prakash and his bike back to Panamint Springs. Another inmate, Johnny, was kind enough to get Prakash back to LA on Saturday.
Thanks to both Leo and Johnny for helping out!
The following pics show the emergency crews responding to take care of Prakash (pics courtesy of Perro-from-Hell on AdvRider Forum)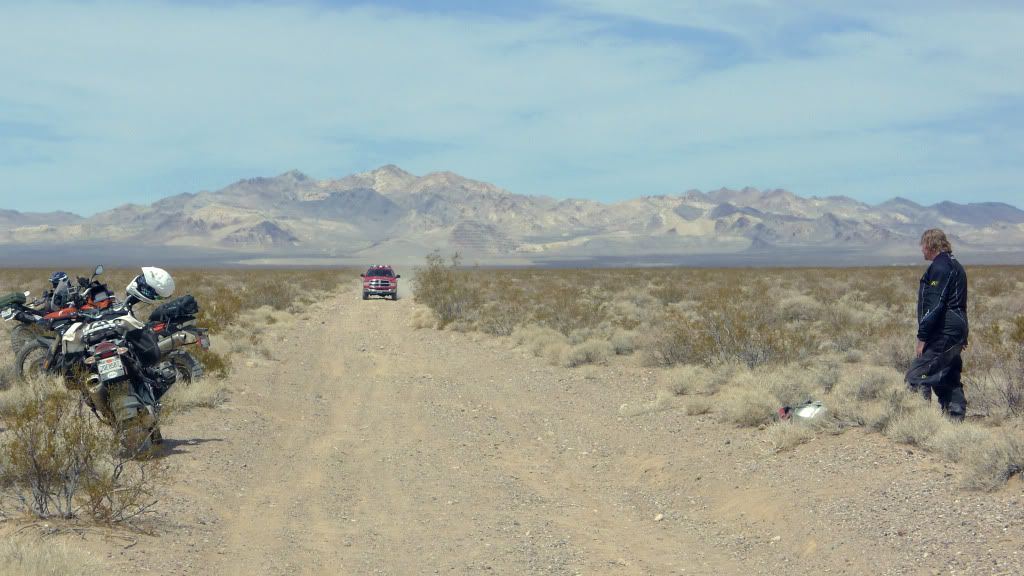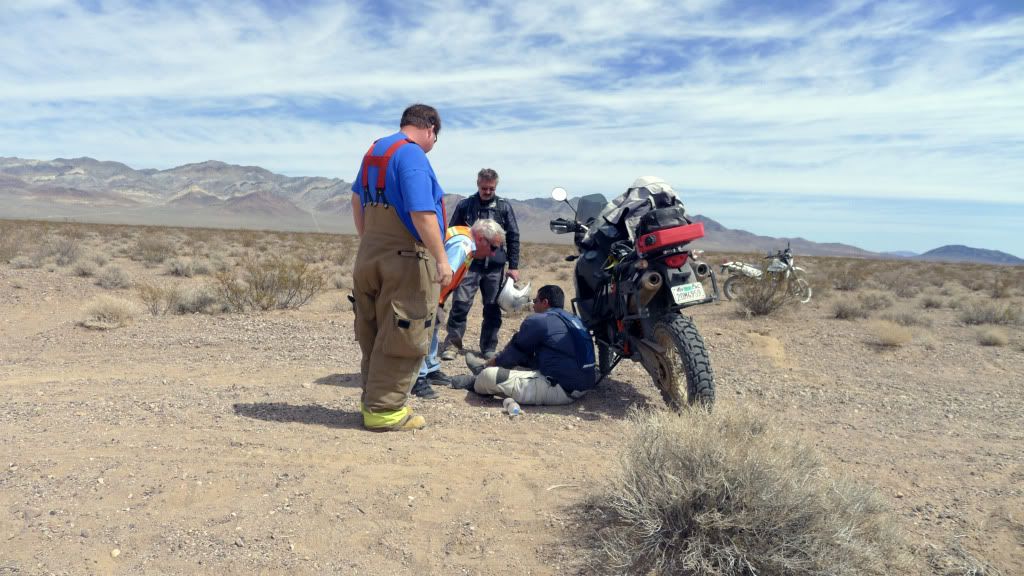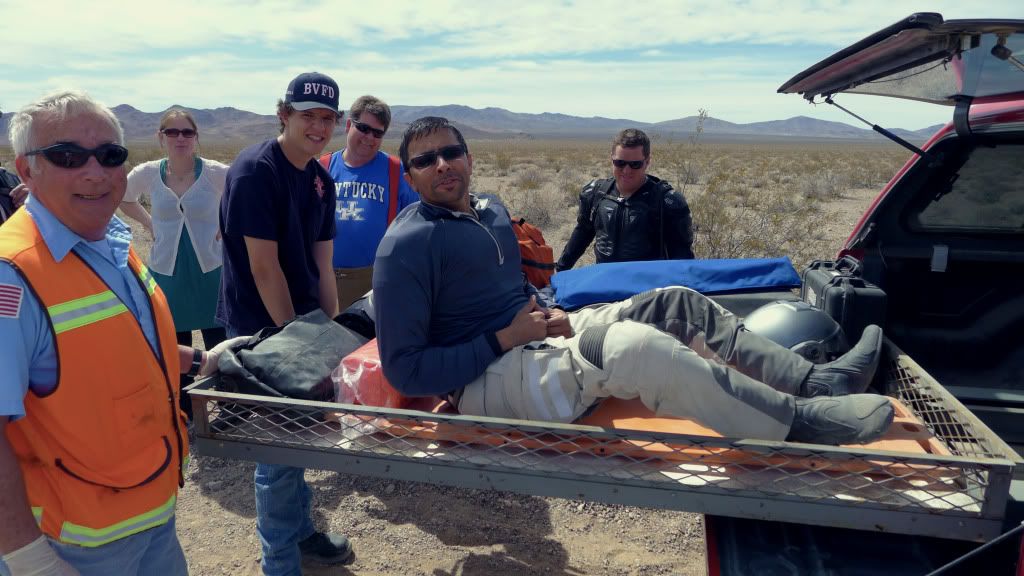 Saturday, March 31, 2012
On Saturday morning, Joel, Ersin, and I met up to ride what I call the DV South Loop, but in the clockwise direction instead of the more typical counter-clockwise direction. That would allow us to get the boring pavement out of the way early, and also let us eat breakfast at the Furnace Creek restaurant. The route takes us east from Panamint Springs to Furnace Creek on Hwy 190, then south on West Side Road. At Warm Springs Road, we head west towards Striped Butte and the Geologist Cabin. Then we continue west over Mengal Pass and down Goler Wash. Finally it's north to Ballarat and on to Panamint Springs.
So it's off to Furnace Creek. Joel took this picture of us soon after leaving Panamint Springs.
As we started getting near to Furnace Creek, the wind started to really pick up. It was actually a workout to keep the bike upright at times with the wind buffeting from one direction, and then another. I needed to gas up in Furnace Creek in order to make the approximate 125 miles from there back to Panamint Springs. As you can see, gas was on sale that day!
We had a great breakfast at the 49'er Cafe, and saw fellow ADV inmate SuperSuz (who was riding her street bike that day).
After breakfast, we head south on West Side Road with the wind blowing even harder than before.
Here's a video of riding on West Side Road.
Turning west on Warm Springs Road, the road gets a bit rockier as it heads into Warm Springs Canyon.
Here's a few pics of Joel on his KTM 690 and Ersin on his KTM 990.
Another video - This one is riding through Warm Springs Canyon, into Butte Valley and to the Geologist Cabin.
Here's a view of Striped Butte, formed from steeply tilted limestone strata, from the Geologist Cabin.
And here's Joel and Ersin heading onto the cabin.
The Geologist Cabin was in very good shape on this trip. It's seen some recent maintenance, and everybody has been treating it well and keeping it clean.
After a short rest, it's on to Mengal Pass.
Mengal Pass
We keep heading west towards Goler Wash.
Here's Joel heading down the Goler Steps.
I took a different line down the steps.
After Goler, it was on to Ballarat where we stopped for a rest and a cold drink. Then on to Panamint Springs to get ready for a great dinner, and the night-time festivities.
Another three days of great riding with great friends!!!